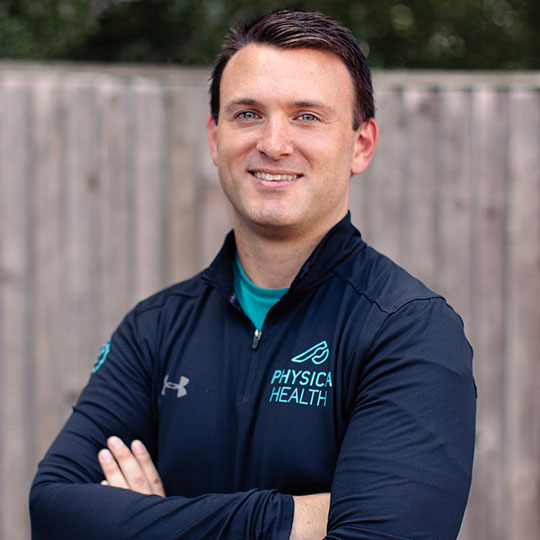 Damien Kelly
Clinical Director – Sport & Musculoskeletal Physiotherapy

Chartered Physiotherapist |Masters Degree in Manual Therapy (University of Western Australia) | Masters Degree Physiotherapy | BSc (Hons) Sports & Ex Rehabilitation | Member of Musculoskeletal Association of Chartered Physiotherapists (MACP) | Member of Acupuncture Association of Chartered Physiotherapists (AACP) | Certified Strength and Conditioning Specialist (CSCS)
Damien graduated with a First Class honours degree in Sport and Exercise Rehabilitation in Ireland where he gained valuable early experience with Munster Rugby and later was selected to complete an internship in Boston with renowned Strength and Conditioning coach Mike Boyle.
He then went on to complete a Masters degree in Physiotherapy before joining Wasps Rugby as a full time Physiotherapist with the first team squad. During this 4 year period he also set up private clinics in both West London and Mayfair Health clubs specialising in sports injuries as well as general rehabilitation for athletes and non athletes alike.
Eager to continue his professional development Damien travelled to Australia, a leader in the world of Physiotherapy and Sports Medicine and successfully completed a masters degree in Manual Therapy in the University of Western Australia, Perth. While there, it was hard not to admire the Aussie approach to Physio, sport and general wellness and he continues to utilise these philosophies now at home.
Damien continued his journey working with elite athletes when he joined Bath Rugby ahead of the 16/17 season as First Team Physiotherapist. There he worked with first team players including many international and British and irish lions stars in every aspect of Physiotherapy from initial acute pitch side management to short, medium and long term rehabilitation back to performance at the top level for a range of injuries and post surgical procedures. These skills have allowed him to work with other sports people at the top of their game such as track and field athletes, golfers, super bike riders and race car drivers. Damien is now the personal Physiotherapist for a Formula one driver this season.
Damien enjoys using these same approaches to help athletes and non-athletes alike as there is no reason why everyone shouldn't receive the best available treatment and rehab methods. He prides himself on his empathy and understanding and loves nothing more than to see his clients return to sport or just general life in a better place than when he first met them.
Where would you recommend I go on holiday?
I would recommend driving the Wild Atlantic Way in Ireland… but I may be slightly biased!
Your best achievement to date?
Completing my Masters in Manual Therapy in University of Western Australia; a lot of hard work but a fantastic experience.
Your guilty pleasure dinner?
Anything barbecued is right up my street!