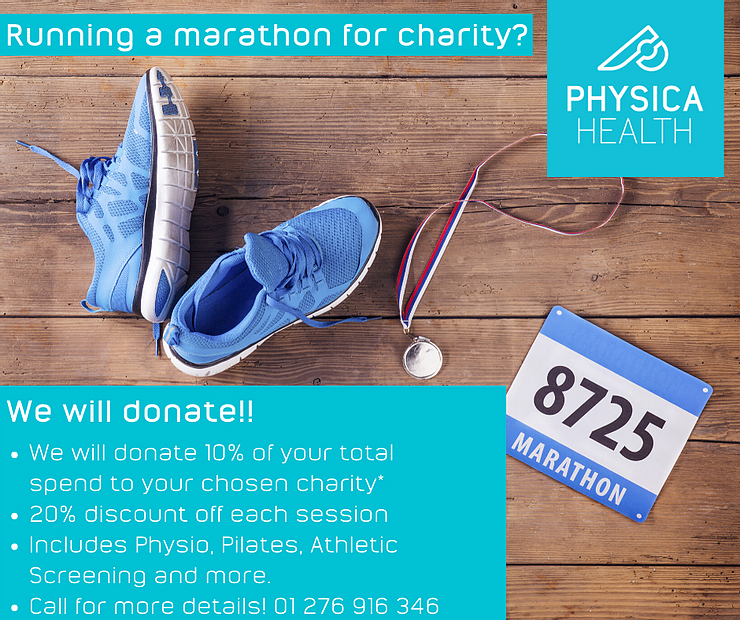 Physica Health are delighted to announce a new initiative for this marathon training season. If a patient sees us as part of their preparation to run a marathon for charity we will to donate 10% of their total spend with us to their chosen organisation *.
We know first hand the work and training that goes into training for a marathon and understand there will be aches and pains along the way. Many runners need a little help from time to time… whether that be some physio, massage, advice or pilates and strengthening for running, we at Physica Health aim to be your one stop shop to help to get you to that marathon finish line.
Our experience in pro sport is second to none, helping us to advise you on your running preparation, planning and strength regime. Our Physio and director Vanesha has gone on the same journey by training for and completing her first London Marathon also. We feel this combination of expertise and experience together with an open door and availability to call in and chat about your preparation, excitement and any worries make us a great partner to have on your side for the journey.
If you need to spend money on physio or training to help you get through your journey then why not make sure some of it goes to your chosen charity.
Here is an overview of what we offer:
Physiotherapy – sporting and non sporting injuries

Pilates – We offer classes including Pilates for Runners. We also offer 1-1 sessions for Matwork and Reformer Pilates.

Rehabilitation – We have extensive experience of rehab in pro sport as well as rehab studio with equipment on site.

Women's Health – Therapeutic treatment of all disorders affecting the pelvis and pelvic floor, including pregnancy related problems.

Occupational Health – We can work with companies to provide wellness workshops as well as pilates and flexibility classes.

Athletic Screening – We use our pro-sport experience to screen for flexibility and strength imbalances that can be targeted to reduce injury risk.

Performance – Our strength and conditioning experience means we can put bespoke programmes together to assist with running performance and injury reduction.
We pride ourselves in offering:
A local 'go to' service that can offer treatment and advice with the same community feel as your running club or friends.

Quick service: we can usually get your clients seen within 48 hours.

We are covered by all major health insurers (*5% donated to your charity if using these)
Should you require any more info don't hesitate to give us a call on 01276 916 346 or email us at info@physicahealth.co.uk
Feel free to take a sneak peak at our website www.physicahealth.co.uk
Wishing you the best of luck with your training
The Physica Health Team
#running #marathon #injury #physiotherapy #sportsphysio #charity