Are you an athlete or fitness enthusiast striving to optimise your performance, manage persistent neck and back pain, or simply seeking relaxation and rejuvenation? Physica Health, located in the heart of Bagshot, offers a solution tailored to your needs—sports massage. We specialise in providing top-quality sports massages that target your muscle tension, ease discomfort, and elevate your physical capabilities.
In this article, we'll delve into the world of sports massage, the benefits it brings, and how Physica Health can be your trusted partner in achieving your fitness and wellness goals. Whether you're an athlete preparing for a competition, someone battling nagging neck or back pain, or just seeking relaxation, our services are designed to meet your unique requirements.
The Power of Sports Massage
What Is Sports Massage?
Sports massage is a specialised form of massage therapy designed to enhance an athlete's performance, reduce the risk of injury, and expedite recovery. It's not just for professional athletes; it's for anyone who leads an active lifestyle or experiences muscle-related discomfort.
Addressing Back and Neck Pain
One common issue that sports massage effectively tackles is back and neck pain. Prolonged periods of physical activity or sedentary work can often lead to tension and discomfort in these areas. Our skilled therapists at Physica Health are trained to identify and address these issues with precision. They utilise various techniques, such as deep tissue massage, to release tight muscles and alleviate pain, enabling you to regain flexibility and comfort.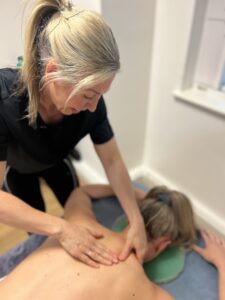 Elevate Your Performance
Are you an athlete looking to take your performance to the next level? Sports massage is a crucial component of any athlete's training regimen. Regular sessions can improve muscle flexibility, reduce the risk of injuries, and enhance overall mobility. At Physica Health, our therapists can tailor the massage to focus on specific muscle groups and techniques to meet your performance goals.
Sports Massage Near Me
Convenience is key when seeking a sports massage. Located in Bagshot, Physica Health is your trusted choice for sports massage in the area. Our location, located on London Road in Bagshot,  with ample parking, ensures that you can easily access the care and services you need without the hassle of traveling long distances.
Conclusion
If you're looking for a top-notch sports massage experience that addresses back and neck pain, boosts your athletic performance, and is conveniently located near you, Physica Health is your ultimate destination. Our professional therapists are dedicated to helping you achieve your fitness and wellness goals.
Don't let muscle tension, back, or neck pain hinder your lifestyle. Contact Physica Health today and discover how our sports massage services can transform your well-being.
Remember, it's not just a massage; it's a pathway to a better, more vibrant you.
To book your sports massage:
Call us on: 01276916346
Email us: info@physicahealth.co.uk
Or Book online at:  https://physica-health.uk2.cliniko.com/bookings/