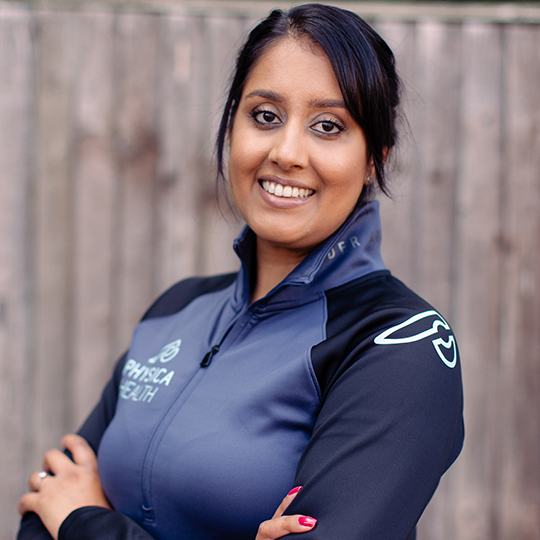 Vanesha Patel
Clinical Director – Pilates and Women's Health
Chartered Physiotherapist | Masters Degree – Physiotherapy | BMedSci (Hons) Health & Human Sciences | Member of Acupuncture Association of Chartered Physiotherapists (AACP) | APPI Certified (Australian Physiotherapy & Pilates Institute) | POGP Certified Women's Health Specialist | Mummy MOTⓇ practitioner
Following on from a degree in Medical Sciences from the University of Sheffield, Vanesha studied a Masters degree in Physiotherapy at the University of Essex. After she qualified in 2012, Vanesha worked for Barts Health Trust for 3 years where she gained experience in many areas of Physiotherapy such as Musculoskeletal Medicine, Orthopeadics, Respiratory, Womens Health, Amputee Rehabilitation and Neurology to name a few before expanding her experience by helping to setup a clinic in Mayfair, London.
Vanesha was selected to be on the team providing physiotherapy at London 2012 Olympic Games, where she worked alongside many celebrities and sporting individuals. Vanesha went on to spend some time working as a Pilates Physiotherapist in Perth Australia and attended lectures from world renowned physiotherapists. This really was a game changer for her where she decided she wanted to bring back the Australian approach to England.
On returning Vanesha completed some further Pilates training, expanded her knowledge and skills in Womens Health and developed her acupuncture skills. She set up another clinic in the midlands and worked for BMI Healthcare. Vanesha has a keen interest in Pilates, Womens Health and post-operative physiotherapy.
She is a strong believer in helping clients to understand their own bodies and works with each person based on their individual needs. She strives to empower her clients with the ability to prevent the injury reoccurring and arms you with a preventative plan.
Where would you recommend I go on holiday?
A very close call between Vietnam and New Zealand – I think! Or Maybe Fiji too??!
Your best achievement to date?
Raising £3000 for charity by running the london marathon.
Your guilty pleasure dinner?
Pasta, ketchup and cheese – all mixed up! I know, I know!! Guilty!!